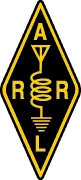 Florida is in the ARRL Southeastern Division and is divided into three sections.
Northern Florida Section , Southern Florida Section, & West Central Florida Section.
The ARRL Southeastern Division also includes Alabama, Georgia,  Puerto Rico, and Virgin Islands and has the largest number of members of the fifteen ARRL Divisions.
ARRL Northern Florida Section – List of Counties
Alachua, Baker, Bay, Bradford, Calhoun, Citrus, Clay, Columbia, Dixie, Duval, Escambia, Flagler, Franklin, Gadsden, Gilchrist, Gulf, Hamilton, Hernando, Holmes, Jackson, Jefferson, Lafayette, Lake, Leon, Levy, Liberty, Madison, Marion, Nassau, Okaloosa, Orange, Putnam, Santa Rosa, Seminole, St. Johns, Sumter, Suwannee, Taylor, Union, Volusia, Wakulla, Walton, Washington
ARRL Northern Florida Section – List of Districts
East Central District – Orange, Lake, Seminole
East Coast District – Flagler, Volusia
Capital District – Gadsden, Jefferson, Leon, Liberty, Wakulla
East Panhandle District – Calhoun, Holmes, Jackson, Washington
Gulf Coast District – Bay, Franklin, Gulf
New River District – Baker, Bradford, Columbia, Union
Santa Fe District – Alachua, Dixie, Gilchrist, Levy
Suwannee District – Hamilton, Lafayette, Madison, Suwannee, Taylor
West Panhandle District – Escambia, Okaloosa, Santa Rosa, Walton
Crown District – Clay, Duval, Nassau, Putnam, St. Johns
West Central District – Citrus, Marion, Hernando, Sumter